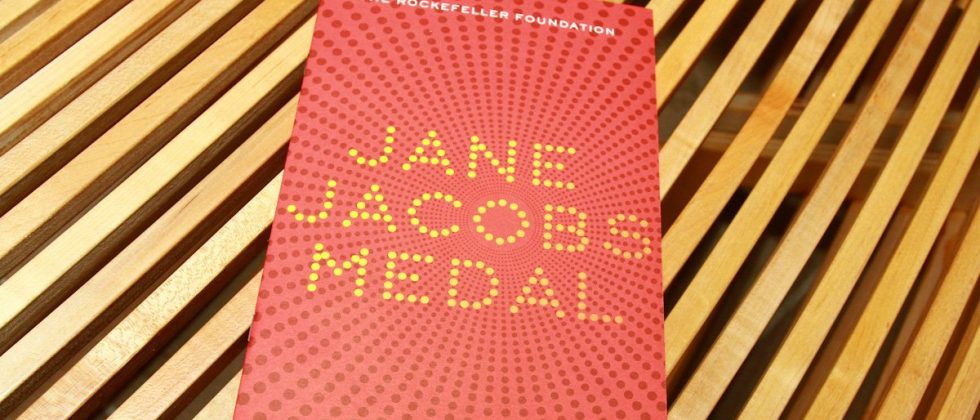 The Rockefeller Foundation and MAS are proud to announce the recipients of the 2016 Jane Jacobs Medal—Dr. Joan Clos and PK Das.
The Jane Jacobs Medal is awarded to individuals whose work creates new ways of seeing and understanding cities, challenges traditional assumptions about urban life, creatively uses the built environment to make cities places of hope and expectation, and influences global understanding and application of Jane Jacobs' principles. The 2016 Jane Jacobs Medal was open to international nominees for the first time, in celebration of the 100th anniversary of Jacobs' birth and the impact of her ideas on cities around the world.
About Dr. Joan Clos: Throughout his distinguished career in public service and diplomacy, Dr. Clos has been leader in the global discussion of sustainable urban development. As Executive Director of the UN-Habitat since 2010, he has spearheaded UN-Habitat's global conference in Quito, which will set the New Urban Agenda. Prior to this role, Dr. Clos served the Spanish Ambassador to Turkey and Azerbaijan, the Minister of Industry, Tourism, and Trade of Spain, and the Mayor of Barcelona. As Mayor of Barcelona, he spurred ambitious investment in Barcelona's industrial zones. For his commitment to a better urban future, Dr. Clos is a 2016 recipient of the Jane Jacobs Medal.
About PK Das: Mr. Das works to democratize open spaces and urban planning in Mumbai. In addition to his architectural practice, he serves as the chairperson of the Mumbai Waterfronts Centre. Mr. Das and the Mumbai Waterfronts Centre organized the Open Mumbai Plan and exhibitions, which mapped, analyzed, and re-envisioned the city's open spaces from coastline to parks and gardens and the vast extent of the natural areas. Mr. Das along with Nivara Hakk- a housing rights movement, of which he is the joint convener, has also advocated for the rights of slum dwellers and improved affordable housing. His primary concern has been to integrate the backyards of exclusion and abuse and integrate these disparate fragments for the achievement of just and equal cities. For his work to transform Mumbai and its open spaces, Mr. Das is a 2016 recipient of the Jane Jacobs Medal.